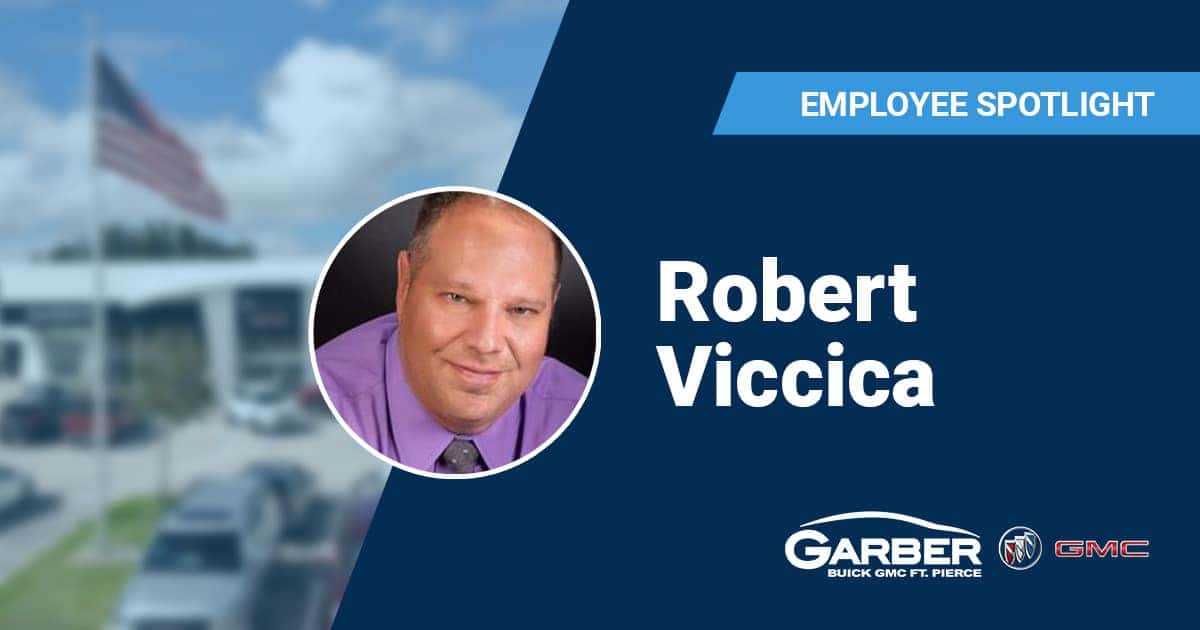 The path that Robert "Bob" Viccica walked to get to Garber is unique, to say the least.
Years before Bob became the fixed operations director at Garber Buick GMC in Fort Pierce, Florida, he worked at a dealership in Vegas.
But it wasn't just any dealership. He worked for the only car dealership in the world that was open 24 hours a day, seven days a week.
The day-to-day (and night-to-night) happenings at the dealership became the premise for a reality TV show. Called "King of Cars," the show aired in over 21 countries on A&E.
Bob got to be a part of the Vegas dealership's empire and the show's filming. 
"I was on the show several times," he said. "It was quite an experience. We had three shifts running 24 hours a day and had an hour in between to clean up. There were 105 technicians working."
While the Vegas automotive life was fueled with adrenaline and television fame, the economy took a hit and put the brakes on success. Bob left the dealership and traveled as a consultant, advising service departments to help them get back on their feet.
He also ventured into the restaurant biz.
"I decided to open up some Italian restaurants called Rocco's," he said. "Anybody who knows pizza in Vegas knows Rocco's."
A lot of fun, a lot of hours, a lot of lessons, and a lot of pizza later, he joined the Garber team, and his world opened up even more.
Thinking Outside the Box
It took giving up all Bob knew for him to walk a new path that led to Garber.
"My parents moved from Vegas to Delray, Florida, so my wife and I decided to sell everything — our homes, our businesses — and move here," Bob explained. "I started working for a dealership in Fort Lauderdale. But I didn't love the drive. So I jumped on the Garber train as a service manager in Delray for five years. Now I am the Fixed Operations Director at Garber Buick GMC in Fort Pierce."
Before Bob joined the team at Fort Pierce, Garber was contemplating whether the store fit into the long term plans of the company. Garber's leadership looked internally at general manager candidates, and Paul Bobo was up for the challenge. In 2020, Paul was named the new General Manager at Fort Pierce, and he immediately added Bob to the team.
Using his past experience and consulting knowledge, Bob's leadership helped turn the business around: recruiting, training, instilling processes, and providing vision for the team, which became a recipe for success for customers and team members. 
Bob hit the ground running as soon as he started at Fort Pierce, working with his team to be number 1 in each metric measured by the company. He did not disappoint. Fort Pierce quickly moved from the bottom to the top of those lists.
Since July 2020,  Bob has also increased the talent at Fort Pierce — more than doubling the amount of people on his team — which has significantly added to the success of the dealership's new team.
Over the past six years of working at Garber, Bob said he has grown in numerous ways, thanks to Garber's culture.
"Garber is always thinking outside the box; that's the main thing," Bob said. "The camaraderie of everyone involved is incredible. You can shoot for the stars here. Garber has allowed me to live my dreams. They've allowed me to grow: to go from a service manager to now having more responsibility."
He's also been able to watch his fellow team members grow.
"One of the things I enjoy about this position is hiring someone who is maybe just starting off in their life, like a newlywed, and help develop them and watch them grow to the point where they have a home, two brand new cars and can go on vacation on a regular basis," Bob said. "When you meet them years ago and then they start working for Garber and completely improve the quality of their life, it's amazing to be a part of that."
Bob helps lead the service department and works with numerous technicians. He said the family atmosphere and attention to detail makes Garber a great place for great people to work – and to get work done on their vehicles.
"Garber has a genuine family feel," he said. "People say, 'How are you doing?' and they mean it. It's genuine care about other people. We also truly care about the work we do. Our technicians will see there's a smudge mark, and they'll say, 'Here, let me wipe this down; it doesn't look right.' The company has really instilled a caring attitude from the top down. Everybody feels that sense of pride."
That family atmosphere starts and ends with the people. Bob explained how Garber makes intentional hiring decisions that are influential in sustaining a quality culture.
"When I started in this business and worked for other dealerships, those dealers were quick to fire employees or let them go," he said. "But with Garber, they ask the right questions when they hire people. We find out who people really are and hire based on fit. Our company views our team members as family. I've had GMs never, ever get to know their people. But Garber? Garber is one big family."
Caring for the Community
At Garber, being a part of the community is a priority.
"We are very involved with the community and the city," Bob said. "We have car shows; we participate in a food drive around Christmas with the City of Fort Pierce. We are also involved with an organization that helps underprivileged children and families further their lives, like learning how to go on a job interview. We also are really involved as far as giving back to the veterans; we work with GM to get veterans placed in our stores and try to help them out with life."
The pride Bob feels to be a part of the community and work for Garber is immeasurable.
"I can't tell you how many times I will go to a restaurant and someone comes up to me and mentions one of our team members," he said. "That, to me, is the greatest. People need to know that we are real people that will be there for you when you need them. Garber is the real deal."
FAST FIVE

What was your first job? My first ever job was a technician working for a Toyota dealership right out of high school. Then I got in my car and moved to Baltimore and became an oil change guy.

What are three things you can't live without (aside from food, water, air…)? Family, friends, and God.

What is something people would be surprised to know about you?  I had a kidney transplant 15 years ago. I have one kidney, and I still can run around here like a mad person. Full throttle. I was born with just one kidney, so over a period of time my kidney went bad…I was on a list, and three months after I was on a list, I received a kidney. Through that experience, I realized tomorrow is not guaranteed, so you do the best you can every day. That is my driving force.

How are you now? I'm doing well. I get my check-ups every three months. You just keep rolling. That's my motivation. Do the best you can.

What was the best piece of advice you've been given, and who gave it to you? A GM I knew named Fred Anderson told me, 'All you have in this world is your reputation, and you've got to live by that.' Reputation is everything. If you're sitting somewhere and your name comes up and someone hears it and they say something positive about you, you did it right.