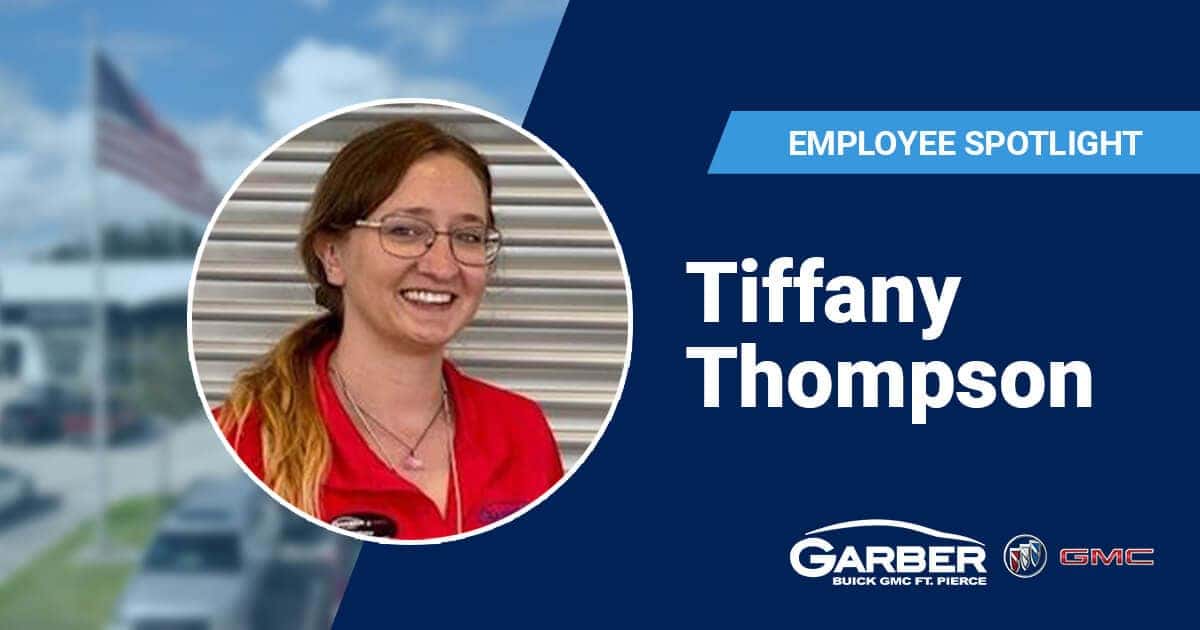 Tiffany Thompson used to describe herself as shy.
Not anymore.
"Being a part of Garber really got me out of my shell," she said.
While Tiffany – now the mobile recall and fleet manager at Garber Buick GMC in Fort Pierce, Florida – grew up working in the automotive industry, she said Garber accelerated her growth and helped her find her voice.
"I was very quiet and shy and meek, and I didn't have the tools at other places I worked," she explained. "But I've learned so much here at Garber and grown as a person. It's been a really cool road. I wouldn't change it for the world."
Tiffany hasn't just learned lessons at Garber. She's found friendship and family.
Most importantly, she found a support system during one of the hardest times in her life.
Family First
They say what happens in Vegas stays in Vegas. But when Tiffany started out in the automotive industry by working at a Vegas dealership, she took her industry knowledge with her when she left the area.
"My first job was a receptionist in Vegas at a Volkswagen dealership," she explained. "I moved up from there. I decided to learn how to do warranty and I learned how to be a dispatcher and someone said, 'You'd be a great service advisor.' So I learned. I moved to Florida and started working for General Motors."
Proximity is what initially brought Tiffany to Garber Buick GMC in Fort Pierce.
"It was closer for me to make the move here and I'm really happy I did," she said.
It was 2017. Professionally, life was going smoothly for Tiffany. Personally, it was even better. She was expecting a baby girl.
"I had left work a few months before I was going to deliver," she said. "My due date was fastly approaching."
Things were going according to plan.
Until they weren't…and Tiffany's world turned upside down.
"I went to the hospital; I wasn't feeling her kicking," Tiffany explained. "She was born still. Her name is Taylor, and she was perfect and beautiful. I did everything right, but she was still gone."
Even in the hospital, Tiffany had the support from her Garber family. Her teammate, colleague and friend Jude Forte (assistant service manager at Garber Buick GMC) was there by her side.
"When I delivered Taylor, Jude was with me through the whole thing," she said. "She is the Lucy to my Ethel. We are like peanut butter and jelly."
Tiffany needed time off to grieve. Other workplaces may not have understood or allowed that time.
Garber did.
"I had to take time off from Garber; I couldn't deal with the panic attacks I was having," she explained. "They were supportive of me and welcomed me back when I was ready. I couldn't ask for a better company to work for through that. I was so focused on trying to get better, and they never made me feel like I was alone. They always had my back. They'd text me and say, 'Hey, are you doing OK?' and they made sure to keep in touch."
Tiffany said that experience highlighted Garber's priorities.
"It's so different here at Garber," she said. "Here, it's family first. Family comes first above all. Support is so important and when you have that with your job, that's what helps get you through."
Madison's Miracles
After Tiffany gave birth to Taylor, she didn't want to see her daughter at first. It was too hard.
But soon, Tiffany changed her mind. A device called a CuddleCot™ gave Tiffany the time she needed to find the closure she deserved.
"If I did not have that CuddleCot™ at the hospital, I wouldn't have been able to have that valuable time with my daughter," Tiffany explained. "The cot keeps the baby cool so the physical changes don't occur so quickly. It gave me four full days with her."
Taylor used the first CuddleCot™placed in the area. When Tiffany came back to work at the dealership, she had a new mission – and the team rallied around her.
"I wanted to make sure we could do all we could to put more CuddleCots in local hospitals," Tiffany explained. "I needed to keep my memory of Taylor alive. This was a way to talk about Taylor and talk about our experience and work through what I was going through."
Tiffany found a local organization called Madison's Miracles that focused on getting more CuddleCots into hospitals. The dealership came together to rally around Tiffany and the cause.
"At the dealership, I had a big sign right behind me that said we were taking donations for CuddleCots in honor of Taylor Thompson," Tiffany said. "And through that, I got to learn more about customers. I met an older lady named Mrs. Shamroth; she told me that decades earlier, she had delivered a stillborn named Richie, whom she never got to meet. It was different back then and she said she wished she had a CuddleCot™ then. Now when she comes in, I say, 'Hi Richie's Mom.'"
Garber continues to support Madison's Miracles and Tiffany.
"Garber often supports Madison's Miracles," she said. "We sold paper butterflies to raise money for a CuddleCot, so everyone put their names on the butterflies, or sometimes they put their baby's name in heaven on it, or sometimes they put Taylor's name. We had an entire service wall covered in butterflies. We also donated recently to a masquerade ball. Garber knows this is important to me, and they support me. It means the world."
Thanks to Tiffany's efforts and the support of the community and Garber, she was able to fund three more CuddleCots for hospitals and help other grieving moms place CuddleCots in honor of their babies.
"I feel 100% supported in so many ways," Tiffany said.
'I Appreciate Life More'
The first time Tiffany met Dick Garber, she was immediately surprised.
"When I met Dick Garber, he said, 'Hi, I'm Dick Garber, and you're Tiffany,'" she said. "I said, 'Oh my God, you know my name?' I never met an owner of a business with so many employees that took the time to know who you are and what you do. I was so surprised by him."
Tiffany said that type of acknowledgement and appreciation is what makes Garber special.
"You don't always get appreciated working at a dealership but here at Garber, you are always appreciated for what you do," she said. "They are constantly giving you praise for all the things you are doing right. They are always teaching you and giving you authority to feel empowered."
With Garber's support, Tiffany has been able to advance her career.
"I was a service advisor and ASE-certified and they sent me to school," she said. "You must go through training. Garber approached me to do that; it felt good and nerve-wracking to take a 150-question test, but it helped me grow."
Tiffany became an assistant service manager. Along with her training, her knowledge and dedication helped her get promoted recently to the dealership's mobile recall and fleet manager. She said she is enjoying it more than she could imagine.
"The wonderful thing about Garber is I get to make my own decisions and I don't have to constantly ask somebody else what to do," she said. "Our service manager is amazing at training us on how to do his job. He wants to make sure we are prepared so we can run a service department when we need to."
She said she feels empowered at Garber.
"I'm more confident here," she said. "They've given me the tools to do my job. Training me to be a service manager has grown my confidence. I get to appreciate life more here. I wouldn't go to a place where I didn't like to work every day. Life is short and you must like where you work. I love where I work."
Fast Five

First job? I worked at a Volkswagen dealership as a receptionist in Vegas. I met Randy Couture and Carrot Top through that job.

Three things you can't live without (aside from food, water, air…)? My husband Ward; my stepdaughter Maddison and my son Blake; and my Taylor necklace. I wear it around my neck to honor Taylor, and I don't go anywhere without it. I guess that's four things I can't live without. 

What is something people would be surprised to know about you? I'm super clumsy but I'm a really good shot: darts or guns or bows or pretty much anything that requires aim.

What was the best piece of advice you've been given, and who gave it to you? My mom and dad always told me to be kind. I never really understood that until now. You never know what people are going through and you can always make someone's day by being kind. Helping one person might not change the world, but it could change the world for one person. I am living proof of that.